Strategies for Summer Food Safety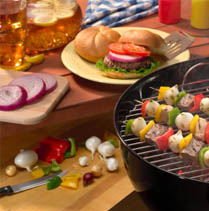 Real Nutrition: Did you know that foodborne illnesses actually increase during the summer? Bacteria flourish in the warm and humid summer months. Also, we often do not have the safety controls that a kitchen provides such as thermostat-controlled cooking, refrigeration, and washing facilities when we picnic. Make sure the food you're packing is safe too! Check out our guidelines on Food Expiration and When to Toss It.
Real Life: We have to fight bacteria! We may not always have access to running water or a cooler. Plan ahead and note a few simple ideas that may save your day.
Pack clean, wet, disposable washcloths and paper towels to cleanse hands and surfaces.
Freeze juice boxes, water bottles, grapes, and any other picnic items that can help keep your cooler cold. Keep the cooler in the coolest
part of the car or in the shade.
At 90 degrees F, food should not be left out for over one hour. Consider items that do not need refrigeration, like fruits, vegetables, hard cheeses, canned or dried meats, bread, or peanut butter and crackers.
Cook meat and poultry completely at the picnic site. Partial cooking ahead of time allows bacteria to survive and multiply, even after subsequent cooking!
See these food safety tips every parent should know!
---