Teens, Weight and Self Esteem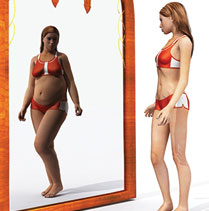 How we look, commonly referred to as our "beauty," is central to how we view ourselves. Although being "attractive" is important for both males and females, for girls, beauty is also tied up with weight and body shape. Unfortunately, during junior high or middle school (and sometimes even earlier), the female body undergoes many changes, as do their emotions.
Dissatisfaction and sadness about one's body often becomes a major focus of a young girl's life. This may come at a time when their coping skills may not be fully developed. Add to this the pressures of becoming a teen, the need for peer acceptance, additional educational pressures, and a changing family life, the possibility of developing an eating disorder becomes fairly high.
Magazines, television shows, movies, and even family values add more stress to the belief that, as a girl, her main value as a person is based upon being skinnier, not having hips, or having a smaller waist. As a
parent, it is important to read teen magazines, watch the shows your kids watch on TV and listen to not only what they say about food, dieting, and their bodies, but what you say as well. Even better, listen to how other moms talk about their bodies and what they say about their children's bodies.
What Parents Can Do for Their Teens:
Provide an environment for them to talk
Help them to problem solve
Help them to develop coping skills
Talk with them about their physical changes
Remind them that they will experience physical changes possibly until they are 18 or 20
Encourage physical activity
Take them to a Registered Dietitian who can teach them (and you) how to make better food choices
Comment on their other qualities, such as creativity, study habits, interactions with others, and
skills and interests that they might have
Read books on girls' social and emotional development
Warning signs that require medical and/or psychological intervention:
Your child's weight is too high or too low
Erratic, but persistent abnormal eating behavior such as overeating/bingeing, skipping meals
Self-denigration about their eating behavior
Excessive exercising
---
---
Similar Articles You May Like...
---
---
Subscribe to SuperKids Nutrition!
---
---