Real Life Healthy Eating Tips for Busy Parents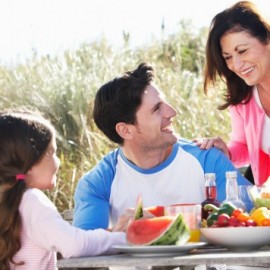 Food Matters for Families!

 

Strategies to Foster Eating for Health And Cancer Prevention
Brought to you by the American Institute for Cancer Research (AICR.org) and an educational grant from the California Walnut Commission.

Join us Parents & Educators -You'll LOVE it!
Watch Melissa, mom, registered dietitian nutritionist and SuperKids Nutrition founder in her kitchen where the science of nutrition meets real food!
This webinar will teach you how to turn on your protective shield with foods and strategies that work for your body. Whether you're a parent or a health educator, you'll walk away with effective tips and tools to create a healthier you, happier family and clients. This webinar will give real solutions to eating more REAL food.
Overweight and obesity are responsible for over 120,000 cases of cancer in the United States each year. Nearly 1 in 2 Americans develops cancer at some point in their lives. Although cancer touches many of us, many parents and health educators are unaware that prevention starts early – in childhood, or even in utero! Learn how diet can affect not only your health, but that of generations to come. Understand how foods like green leafy vegetables can improve health and protect your DNA from changes that can be passed on to your offspring. Find out how parental eating habits influence a children's eating habits for life, how to motivate yourself to eat better, and the steps you can take to raise a healthy family while lowering cancer
Learning Objectives
At the conclusion of this webinar, participants will be able to:
State the health and wellness benefits of a phytonutrient rich diet centered around whole plant based foods
Explain how nutrition can have epigenetic effects on offspring in order to better educate patients on the impact of nutritional inadequacies
Understand how parental eating habits influence those of their children
Learn how to create a positive eating environment and encourage the enjoyment of healthy foods
State 3 strategies for fostering fun and realistic healthy eating habits in children and adults
Continuing Professional Education (CPE) Credits
Plexus Consulting Group has applied to The Commission on Dietetic Registration (CDR) to provide 1.0 (Level 1) CPE credit hour for this activity for RDs and DTRs.
PDP Suggested Learning Needs Codes:
2000 (Science of food and nutrition)
4000 (Wellness and public health)
4040 (Disease prevention)
Continuing Education Contact Hours
Sponsored by American Institute for Cancer Research, a designated provider of continuing education contact hours (CECH) in health education by the National Commission for Health Education Credentialing, Inc. This program is designated for Certified Health Education Specialists (CHES) and/or Master Certified Health Education Specialists (MCHES) to receive up to 1.0 total Category I continuing education contact hour. No advanced-level CECH are available.
---