Baking Substitutions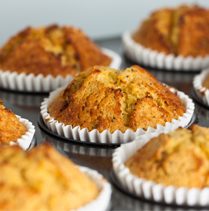 It's happened to all of us- you're in the midst of making your famous blueberry muffins to take to brunch in 2 hours, and you're missing one crucial ingredient essential to the recipe. What's a cook to do? Running to the market and picking up the missing ingredient is certainly one option, but if you're tight on time, that's not always possible. Or maybe it's the first week of the New Year, and you've committed to eating more healthfully- but you can practically hear that box of brownie mix calling your name. Isn't there something you could do to make your favorite dessert healthier?
Luckily, the answer is yes! Baking substitutions are becoming more and more popular among cooks, especially among those who have chronic disease, like diabetes or high blood pressure or just want to positively change their diet. The best part is that many of these substitutions are already in your pantry or refrigerator.
It's always handy to have a quick reference guide available to help you make substitutions (intentional or not) in your delicious homemade goodies. This particular guide breaks down baking ingredients by categories and lists healthier swaps, along with additional health benefits that can be gained by making the change.
Eggs, Butter, and Oil, Oh My!
Though eggs are protein packed, the yolks also contain cholesterol and saturated fat! While the newest dietary recommendations de-emphasize cholesterol as a concern, saturated fat is still linked to chronic disease. Talk to your dietitian or doctor to see how much saturated fat you should be eating. If it is a concern, egg whites and substitutes are a good way to keep the protein high. A bonus- almost all of the egg's protein can be found in the whites, which function as a structure builder in the batter and add moisture to the mixture.
1 Whole Egg:

2 Egg Whites
¼ C Egg Substitute
2 Tablespoons Mayonnaise (Best in cake batter)
Reconstituted Powdered Eggs (Amount determined on label)
Butter or Margarine? Though one or the other is generally needed to act as a tenderizer and add flavor, which one is better for your health?
Let's look at the facts: Butter is an animal-based product, which means that it contains dietary cholesterol as well as saturated fat (SF). One tablespoon of butter contains 7 grams of SF, which is one of the main causes of high cholesterol. Margarine comes in two forms, either in a stick or in a tub/spreadable form. Do not choose any margarine with trans fat, these should be completely avoided. The FDA has deemed trans fat unsafe in food, and will phase out trans fat in the food supply by 2018. When possible choose a tub margarine like Earth Balance, which contain no trans fat, made with expeller pressed oils, and has sustainable palm oil. When using these, you may need to experiment, each recipe is different you may want to split the ½ cup of butter called for in the recipe to ¼ cup butter, ¼ cup Earth Balance.
1 C Butter:

1 C Margarine
¾ C Oil (Substitute for melted butter only)

1 C Vegetable Oil:

1/2 C Baby Food Plums or Applesauce + ½ C oil
The Sweet Stuff
Sugar and chocolate are the reason that most of us love baked goods and this tends to draw us to the cookie jar. These ingredients are essential to baking by providing flavor and acting as a tenderizer. However, sugar can pack a punch, adding 16 calories/teaspoon. That may not sound too bad, but considering most recipes call for a cup (or more!) of sugar, and with 48 teaspoons/cup, you're looking at 768 calories in the entire recipe. Most recipes you can cut the sugar by at least ¼ and not even miss it.
Chocolate Substitutions can be made by either using less chocolate in the recipe or by changing the formula. Cocoa has many of the health benefits, like improving cardiovascular health and blood pressure, and less of the fat than chocolate does (22% fat versus the 48-50%).
1 C White Sugar:

2/3 C Agave Nectar + ¼ or 1/3 C Reduction of all other Liquids
1 C Sugar Substitute (ex: Splenda. Check the label for exact substitution amounts)

1 C Powdered/Confectioners Sugar:

1 C White Sugar + 1 tablespoon Cornstarch (Blended in food processor to create a more powdery texture)

1 ounce Unsweetened Chocolate:

3 tablespoons Cocoa + 1 tablespoon butter/margarine/vegetable oil

1 C Chocolate Chips:
Still taste too sweet for your liking? Try gradually decreasing the amount of sugar/sugar substitute called for in a recipe by halving the measurement.
Example: 1.5 C brown sugar = ¾ C brown sugar
Everything Nice about Spice
Spice substitution is different than other baking substitutions, as there aren't as many health implications involved. It's a simple matter of knowing what you have in your spice rack that you can interchange to complete your recipe. In addition to contributing a specific flavor to the batter, spices can also add a different texture.
1 teaspoon Allspice:

½ teaspoon cinnamon + ½ teaspoon ground cloves + ¼ teaspoon nutmeg

1 teaspoon Apple Pie Spice:

½ teaspoon cinnamon + ¼ teaspoon nutmeg + 1/8 teaspoon cardamom

1 teaspoon Pumpkin Pie Spice:

½ teaspoon cinnamon + ¼ teaspoon ground ginger + 1/8 teaspoon allspice + 1/8 teaspoon nutmeg
Floury Fun
Flour is another ingredient that contributes to structure. Flour is classified by the way it is processed, which clarifies the type. All flours have a different protein content, which is why all purpose (AP) flour is used in pie crusts, waffles, and cookies, and why cake flour is primarily good for muffins and quick breads. Self-rising flour has a lower protein content, which makes it perfect for biscuits and recipes that don't include yeast. Whole-wheat flour is a great way to incorporate whole grains and fiber into baked goods, but be cautious when substituting it into recipes. More than a 50% substitution yields a denser end product that can change the texture of the baked good. Whole-wheat pastry flour is a great substitution for all-purpose—it's lighter and has less protein than regular whole-wheat flour and be easily substituted in muffins, quick breads, cookies, and even pie crusts.
1 C All Purpose (AP) White Flour:

½ C Whole-Wheat flour + ½ C AP flour

1 C Cake Flour:

1 C (minus 2 tablespoons) AP flour

1 C Self-Rising Flour:

1 C (minus 2 tablespoons) AP flour + 1 ½ teaspoons baking powder + ½ teaspoon salt
Milk & Cookies Really Do Go Together!
Most recipes that require liquids necessitate the use of a milk product in baked goods, which is a great way to incorporate calcium, Vitamin D, and protein. There are many forms the milk can take, which affects the nutritional properties and its function in the recipe. Evaporated milk is milk that has been heated until half of the water evaporates, which yields a creamier texture and increased levels of certain nutrients. Heavy cream is a dense cream perfect for whipping due to its high fat content. Sweetened condensed milk is a milk and sugar blend, which is primarily used to sweeten and thicken desserts. Buttermilk is a high-protein, low-fat milk that is thicker and tarter than regular milk, and is typically used to make scones and pancakes. To slash calories and fat from the final product without sacrificing on moisture or taste, consider using a lower fat version of the product in your recipe.
1 C Evaporated Milk:

1 C Low Fat Evaporated Milk
1 C Fat Free Evaporated Milk

1 C Heavy Cream:

1 C Light Cream
1 C Half & Half
1 C Evaporated Skim Milk

1 C Sweetened Condensed Milk:

1 C Nonfat Sweetened Condensed milk
1 C Low Fat Sweetened Condensed milk

1 C Buttermilk:

1 C Yogurt
1 C Milk + 1 tablespoon Vinegar/Lemon Juic
High and Dry Ingredients
Baking powder and baking soda have similar names and purposes. Both ingredients function as leavening agents when used in baking, but react differently depending on the other ingredients they are combined with. For example, baking soda has no substitute because of its lack of acidity, while you can create a substitute for baking powder. Both baking soda and baking powder contribute to the shape, size, and volume of the baked good.
1 teaspoon of Double Acting Baking Powder:

1/4 teaspoon Baking Soda + 5/8 teaspoon Cream of Tarta
Learn how to get your children involved in the kitchen.
---