Meal Makeovers Recipe App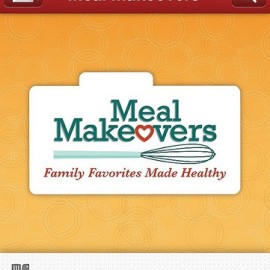 With our busy schedules, it can be a challenge to get dinner on the table for our families, let alone a healthy meal!  Luckily, the Meal Makeover Moms, Liz Weiss MS, RD and Janice Newell Bissex MS, RD, authors of No Whine with Dinner, have created a new app to make this task a whole lot easier. The app, called Meal Makeovers, features healthier versions of classic recipes that families love, and they're right at your fingertips! The app is available for $1.99 in the iTunes Storeand includes over 50 recipes (with new ones being added every week) ranging from breakfast, lunch, and dinner to holiday classics, snacks and gluten free! Super Kids Nutrition caught up with Liz to chat all about their new app.
We're so excited about your app! Why did you decide to create it? And how will it help more families cook and to cook healthy?
Well we know that everybody is on the go nowadays and most people, especially moms, have smartphones so we thought "Hey, why not create a recipe app so people would have our recipes with them wherever they go." We actually entered a contest to win the recipe app. A company called Mobile Skillet sponsored it and we won the contest! So we thought it was a great time to create an app.
The overarching answer to how we help families cook and to cook healthy is to take family favorites and make them healthy. We don't make things low fat or boring; we like to use healthy fats. And we're always looking at ways to weave in good nutrition. So all the makeover recipes are really designed to increase whole grains, fruits and vegetables and to incorporate moderate amounts of healthy fats into the family diet. And then of course it has to taste good! Good nutrition sometimes gets a bad rap. But our families and our kids test all of our recipes a lot. Because we know that moms are busy and there's nothing worse than a recipe that doesn't work, they're very well tested and loved by families.
How do you keep the Meal Makeovers app current?
We add at least one new recipe a week, and we try to add a new video each week. We have videos that we've created, which we've had for a while, so we add them to the app periodically. So, for example, we've got a recipe for black bean enchiladas and this week we'll probably add our video on the nutritional benefits of beans. So it's really dynamic, unlike a cookbook where you create and that's it. An app is very flexible. We can add new recipes all the time, we can add new videos, we have a podcast on iTunes, and we always add a link when that goes live. The app is very rich and constantly changing.
There are a lot of cooking apps out there. What sets Meal Makeovers apart from all of the other apps?
What we love to do, and obviously our goal, is to help families eat a healthy diet. What we always want to do is give them the tips and recipes that they are looking for. We know there are recipes moms make over and over again because kids love them and families love them. Things like spaghetti and meatballs, tacos, fish sticks and brownies. So, if there are these recipes that moms make over and over again, but maybe they're not so healthy all the time, it's our goal to give them healthy versions of those tried-and-true recipes. We're giving them the recipes that they want, that they love, but we've added a healthy spin to all of them. We know moms are craving that; they want to keep their families happy and they also want better nutrition. So the app is different because it's really just those tried-and-true recipes. We don't really go too far out of the box, although we do have quinoa recipes and other fun things. But we definitely look at what's current, what's trendy, what do moms want, and we say "Let's make a healthy version of it." Another thing that sets us apart is that we have nutrition tips, little factoids that we weave into our recipes. We have nutrition information associated with every single recipe. You're not going to get that on all apps. We also have beautiful photos, which is important for the moms and the kids, so they will know what the recipe is going to look like. We have a customized shopping list, so you can go through and choose the recipes you want to make and then create a shopping list from that. You can search: for example, if you are interested in gluten-free, you can search for that. So, it's just very dynamic and really gives moms what they're looking for. Moms always say "My kids love mac and cheese. Do you have a healthy version?" or "My kids are addicted to Hamburger Helper. Do you have a healthier version?" It's all in the app.
One of my favorite things about the app is the shopping list you mentioned. I love that you can pick a recipe, click on the ingredients you don't have, or on the whole recipe, and have the list right in front of you to take to the grocery store.
Right! And that makes meal planning so much easier! A lot of times I cook from cookbooks or our website or blog and I have to run upstairs to the computer, print out the recipe, run downstairs and start cooking. So I love having the app at my fingertips. It just makes it so much easier at dinnertime. When you're standing in the kitchen, you have 15 minutes to get dinner going. This way you don't have to run around, because it's right at your fingertips. And really, that's the benefit of any app. I love our app, and I really love those photos too. I think it makes a big difference!
I agree! In your podcast you mentioned that you have around 50 recipes in the app so far. How many more are you thinking of adding?
It started with 50 and I'd say we're probably up to 60 now and we're going to add at least one new recipe every week. And when we add those recipes we always think about the time of the year. Today, for example, we added a pumpkin waffle recipe because it's fall and pumpkin is very in right now. Next week we're adding a healthier pumpkin cupcake recipe. A couple weeks ago we added an apple quinoa recipe, because so many people have apples in their pantry now and want new ways to use them. The way we add recipes is always based on season and the ingredients that people are enjoying most this time of year.
What are some of your favorite recipes on the app?
So many! Well, my favorite is our Black Bean Enchilada recipe. I love that recipe for so many reasons. It's vegetarian, and my husband is vegetarian; it's so nutritious because it has so many vegetables like black beans, pumpkin, corn kernels, and spinach; it's easy to make; it's so delicious; and my whole family loves it. So that's definitely a current favorite. Janice is a big fan of the Asian Fish Sticks right now, because of her daughter who is living at home (she has one daughter in college and one who is living at home). One week she's a vegetarian, one week she's a pescatarian, and the next week she's eating meat. She really likes those fish sticks! And salmon is so nutritious. So that's a popular one with Janice and her family right now.
Is the app just for parents or can kids use it too?
I think it's great for kids! The reason I think that kids will love it as much as moms is that kids are very visual. That's where everything is going now anyway. Kids are so used to Instagram and Facebook and all of these visual mediums. The photos in the app are colorful and playful and designed to entice kids. And, if you want your picky eater to try new foods, the best way to do it is to give them control in the meal planning process. So give them the app and say "Okay, go into the dinner category and pick out three dinners you want me to make this week," or "Go into the snack category, because you come home from school starving everyday, and pick out three snacks you want to try this week." "Hey mom I really want to try that pumpkin banana smoothie." "Okay great. Let's try it!" It gives kids some control, and the app is easy for them to navigate. As we know, kids are very tech savvy, much more so than adults. If you give a child an iPhone or an iPad, they're so happy! Put them to use: have them pick the meals!
---