Allergy Season is in The Air… But What About Food Allergens?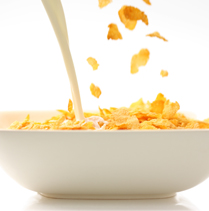 Real Nutrition: Food allergies occur when our bodies
mistakenly believe certain foods are harmful. Surprisingly, 8 foods account for 90% of all food-allergic reactions. These foods are milk, eggs, peanuts, treenuts, fish, crustacean/shellfish, soy, and wheat, and must be clearly identified in the food ingredient statement.
Real Life: Did you know over 2 million kids in the US alone have food allergies? When entertaining children, always ask the parents about any known food allergies, and keep the original packaging of prepared foods you serve just in case. Talk to your doctor if you suspect a food allergy, and remember the following helpful tips.
Within the list of ingredients on a food label, allergens must be given in common terms, or by stating the allergen in parenthesis after the ingredient.
An Allergen Statement may be added to the end of the ingredient statement that identifies the allergens in the food.
A Supplemental Allergen Statement can be included on a food label if a food processor feels that a food may potentially be exposed to allergens during processing.
If you have the slightest doubt you may be allergic to an ingredient, regardless of how small the amount, avoid that food entirely.
Lots of good substitutes have been created for favorite foods from dairy-free treats to wheat-free hearty breads and crackers.
For a comparison chart on food allergens log on to www.supermarketsavvy.com.
---