How to Get the Most From Your Farmer's Market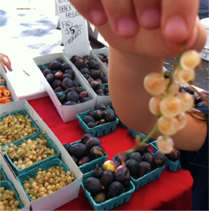 What you choose to eat is the most important step to overall health. Everyone can benefit from consuming a variety of fruits, vegetables, whole grains, nuts, and seeds to achieve better health. These basic, whole foods fuel the body with their vitamins, minerals, antioxidants and phytonutrients (disease fighting elements found in fruits and vegetables), as well as prevent many common diseases. What can you do to eat healthier, be happier and inspire those you love to follow your healthy lifestyle habits? How about visiting your local Farmer's Market?
The Farmer's Market is the perfect place to purchase healthy foods due to the availability of a wide variety of organic foods, low to moderate prices, and fun for all. You will also be able to support the local family farmers and artisans who come to sell their goods. Depending on the market you choose to visit, you can find fresh organic produce, fresh baked breads, honey, ready-to-eat cooked foods, flowers, olive oils, crafts and more.
Some markets offer fun activities for kids, such as petting zoos, kids' bouncer, pony rides and face painting while others may have a playground close by. Most vendors only accept cash, so make sure to bring enough to get all your fruits and vegetables, plus $2-$3 for the kids' rides.
Tips for Shopping at the Farmer's Market:
Shop for your necessary items first.
Ask farmers about their produce and where their farm is located.
Ask how others like to prepare their favorite produce.
Involve your children in the Farmer's Market shopping experience by letting them choose one fruit or vegetable that they haven't tried before.  See our section Fun Activities with Kids for ways to get your child interested in new fruits and vegetables.
During the summer months, remember to bring sunscreen to prevent over exposure.
The market is a great place to be active as you walk around outdoors, meet others in your community and do your weekly shopping for fresh healthy foods.
What's Fresh This Season?
Ask what has been recently harvested to get the freshest produce.  Ask your farmers questions to learn more about which foods are best this season. To find a local farmers market near you, visit http://www.localharvest.org/.
Before visiting the farmer's market with your kids -read to them about where food comes from, how foods grow and books about farmer's markets in our children's book corner.
Visit Fitness and Wellness to discover other fun family activities to enjoy together.
---