Colorful & Tasty Lunch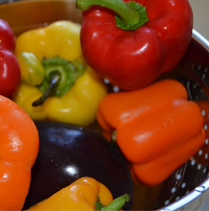 A colorful diet adds more than just nutrient packed compounds; it provides an
abundance of flavor and visual appeal.  Try these tips to make your meals taste and look better.
Add a serving of baby carrots, sliced red peppers, grape tomatoes or sliced cucumber to your brown bag lunch-serve a dip on the side if you desire.
Try roasting all types of root vegetables-such as sweet potatoes, carrots and beets (provide examples, many people don't know what this means) with olive oil and fresh herbs-serve as a side dish to your meal.
Enjoy a colorful salad or vegetable based soup as your entrée.
Indulge in a ½ plate of colorful vegetables with your lunch and dinner meal.
Make baked French fries with sweet potatoes and/or red skinned potatoes-cut potatoes into slices, drizzle with olive oil, and a dash of sea salt and pepper-Bake at 375 until golden brown -dip in low fat sour cream for added calcium and flavor.
Purchase a pre-made veggie platter for the family "appetizer"-this will keep the family busy while dinner is being prepared.
Purchase frozen mixed vegetables that can be cooked quickly by steaming or microwaving-done in minutes!  Season with olive oil and minced garlic or a splash of teriyaki sauce.
Make a healthy chicken casserole with an assortment of 3 types of different color frozen veggies.
Cook with soy sauce and herbs and they'll taste just as good as fresh (something along those lines).
Try adding finely grated carrots to your favorite spaghetti sauce.  This adds a heaping dose of Vitamin A and a sweet taste that most children are certain to love.
Sneak pureed vegetables into soups, salsas and other store bought food -watch this video on boosting veggies to learn how.
Fruit and Veggie Packed Snacks
Always suggest a fruit or vegetable option first when helping your child decide on a snack option.
By simply adding toothpicks (if age appropriate) to a plate of cut up fruit or canned fruit in it's own juice, kids will find eating more pleasurable and more likely to partake in the produce.
Fun packaging appeals to kids, try to purchase fun re-useable containers to put the veggies and dip into for snack time.
Trail mix or 100% fruit roll ups are a great way to add dried fruit to your child's diet-remember to encourage teeth brushing after they eat this sticky fruit.
Small containers of fruit packed in it's own juice make a quick and nutritious snack.
Learn other great tips by visiting our Nutrition Experts Section.
---