Buckwheat a Gluten-Free Super Food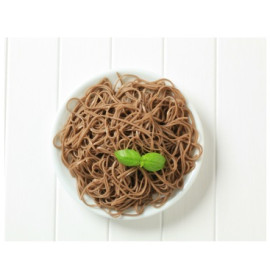 What is Buckwheat?
Buckwheat, with the scientific name: Fagopyrum Esculentum, is not a cereal, but a pseudo cereal.
It is the seed of a plant related to rhubarb and sorrel.
Its origins are traced back to ancient China. It was introduced to Europe in the 15th-16th centuries and to North America in the 17th century. Currently, the two top producers are China and Russia.
Popular buckwheat products: buckwheat groats, buckwheat flour, "soba" noodles (Japanese), "pizzoccheri" pasta (Italian), "kasha" (roasted groats).
Why is Buckwheat good for me?
In one cup of cooked Kasha – porridge you can eat for breakfast, it contains 155 calories and is loaded with nutrients.
It's gluten-free
1% of our population suffers from Celiac Disease. Buckwheat is suitable for their diet, but pay close attention to reading labels: most soba noodles and buckwheat pancake mixes contain wheat. Buckwheat itself, despite its name, is "wheat-free" and "gluten-free".
It's packed with fiber
One cup of cooked kasha contains 4.5 grams of fiber. Fiber promotes digestive health, and helps stabilize blood sugar levels. Its high content of soluble fiber makes buckwheat a cholesterol-lowering food, same as oatmeal.
It provides protein
The protein composition in buckwheat resembles the standards of the World Health Organization for a nutritionally balanced protein.
Buckwheat provides complete proteins in your diet due to its essential amino acid composition. Check out our article on quinoa, to learn more about the power of these "pseudo-cereal" seeds.
Research on buckwheat protein-extracts revealed that it contains blood pressure-lowering components (the angiotensin I-converting enzyme inhibitory peptide) (6.
It's loaded with antioxidants
Flavonoids. The antioxidant profile of buckwheat includes two flavonoids: rutin and quercetin.  Antioxidants protect the cell from damage and fight cellular stress, by scavenging free radicals. Rutin, the most abundant flavonoid in buckwheat, increases strength and flexibility of capillary blood vessels. This makes capillaries more permeable to blood flow, which means organs are better oxygenated, and it preserves your eyesight as you age.
The antioxidants in buckwheat prevent cellular DNA damage by free radicals, which may help prevent cancer.
Phenols. Phenol compounds protect the heart. Red wine's heart-protective action is hypothesized through the phenols present in the skin of dark-colored grapes. Phenols are also present in buckwheat.
It contains phytosterols
Plant sterols (also called phytosterols) are known for their cholesterol-lowering effects. Buckwheat's cholesterol-lowering activity is exercised not only through its fiber content, but also through the presence of plant sterols.
It has trace minerals and vitamins
One cup of cooked buckwheat provides a third of your daily recommended intake of manganese and a little over one fifth of magnesium. Other vitamins and minerals present are niacin, riboflavin, thiamin, zinc, and copper, which have extensive benefits to your health.
It's good for sustainable agriculture
From an environmental standpoint, buckwheat is a sustainable crop. It grows on relatively poor soils, it offers a good food source and habitat for wild life, and it's one of the best temporary honey-crops. The phenolic content of buckwheat makes it crop resistant to pests, diseases, UV radiation, and unfavorable soil conditions; it is an easy crop to grow without using pesticides.
Get great buckwheat meal ideas!
---