We Had a Picnic This Sunday Past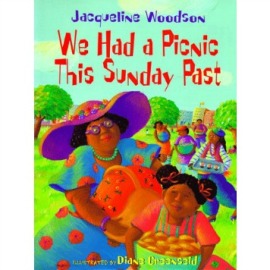 Story by Dianne Greenseid
Every page is bursting with color and activity, as Teeka, a young girl, introduces you to all the members of her extended family. You can almost hear the different voices, from Grandma gossiping about Aunt Martha's pie, to Uncle Luther serving up his famous cinnamon bread. Teeka's narration introduces you to all her family members who bring a variety of home-made treats to share on a Sunday picnic. You won't want to rush through this book, as each page is chock-full of color and activity, as page-by-page everybody arrives to share in the feast. Teeka's sassy commentary will make you chuckle, as you enjoy in a beautifully illustrated picnic full of soul food specialties.
After reading this book with your child:
Get outside and go on a picnic at the park!
Have your child name one or two foods that they see in the pictures, and identify the colors
Arrange a small gathering of family and friends to share new favorite dishes with your child
---
---
Similar Articles You May Like...
---
---
Subscribe to SuperKids Nutrition!
---
---