Fannie in the Kitchen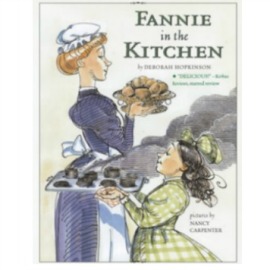 Story by Deborah Hopkinson
Best for readers aged 4-9, this whimsical book is a great read for any child who has an interest in helping around the kitchen. Set in the late 19th century, sullen little aristocrat Marcia is trying her best to let Fannie, the new nanny, know that she does not appreciate her presence in the household. Marcia had always been the helper in the kitchen (despite not being very helpful)! But through a few mishaps and some burned dishes, the two become friends. Best for more advanced readers, this book provides a fun simple recipe at the end, Fannie Farmer's Griddle Cakes that children can make at home with their parents. While not overtly promoting specific healthy foods, this fun book will certainly spark the interest of children who find that, they too, can help prepare the foods they eat!
After reading this book with your child:
Try making Fannie Farmer's Griddle Cakes from the recipe at the end of the book
Talk to your child about how they can help in the kitchen
Have your child point out items in the refrigerator that can be used to make a cake
---
---
Similar Articles You May Like...
---
---
Subscribe to SuperKids Nutrition!
---
---